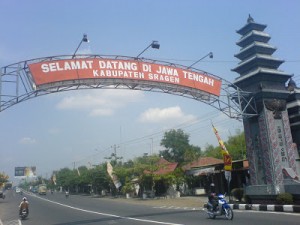 Sragen
Sragen is one of regencies in Central Java province, with the capital city of Sragen. It located around 30 KM east side of Surakarta city. This regency is bounded with Grobogan regency in north, Ngawi regency in east, Karanganyar regency in south and Boyolali rgency in west.
Sragen is located on the road connecting Solo and East Java. The road is very potential for the smooth transportation of goods between the two areas. It is one of economic advantages for Sragen development. A modern plant producing chemical stuffs for textile industry has been erected on the main Solo – East Java Road.
This district formerly known as Sukowati, the name used since the reign of the Kingdom (Kasunanan) of Surakarta. Sragen name used because the central government was in Sragen. Sragen Anniversary set on May 27, 1746. That date and time were the results of research and studies on historical fact, when Prince Mangkubumi which later became the first Sri Sultan Hamengku Buwonoa that fight against the Dutch colonialism.
Sragen has many tourism attractions viewing from religious, historical, and economic aspect. The main characteristics of tourism in Sragen is relying on a panorama or a beautiful landscape, and traditional culture is still up, along with the availability of professional tour guides and the various facilities of international standard.
Dated back to the early history, Sragen was the place that the archaeological fossil founded, precisely in Sangiran. Hence, those fossils are place in famous museum of Archaeological Museum Of Sangiran. Moreover, there is also Sangiran site, which is include of 3 sub-districts that located around Lawu mountain.
Other tourism objects in Sragen are, Bayanan hot spring, Hyang Tirto Nirmolo, the grave of Samudro prince, Kedung Ombo, Kliwonan tourism village, Sukowati Batik Gallery, and many more.