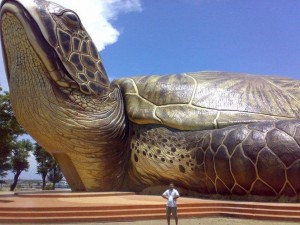 Rembang
Rembang is one of regencies in Central Java. Rembang Regency is situated on the northeast coast of Central Java Province. The Regency is crossed by the North Coast inter-province main road. Rembang Regency is a lowland, with a maximum elevation of about 70 M above sea level. It bounded with Rembang bay or Java ocean in north, Tuban regency, East Java in east, Blora regency in south and Pati regency in west.
Rembang regency is having direct border with East Java province, it becomes the gate to the east of Central Java Province. The economic commodity in Rembang is in the sector of fisheries, salt, mining and traditional producer of Batik Lasem. Most of the inhabitants are living peacefully and depending on nature to make a living.
Rembang have numbers of destination relating the nature and historical tourism. For instance, the grave of Indonesian heroine of Kartini is lies in Rembang. Moreover, there is museum of dedication of Kartini, Kartini beach, the ancient of Dampo Awang beach, Kartini Mentingan marine tourism, Pasucen forest, Sunan Bonang meditation, Embung Lodan irrigation, Sumber Semen Forest Tourism, Argopuro peak, Kajar hill, and many more.
Furthermore, like any other features in one area, Rembang is having some particular culinary that worth to try, and some of them are being famous outside of Rembang. For instance, Mangut, Jadah, Jenang Waluh, Pindang Tempe, Lontong Tuyuhan, Sate Sarepeh and many more.