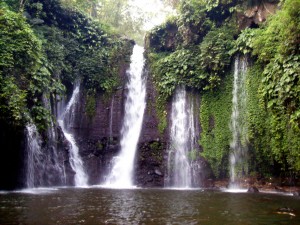 Pemalang
Another regency in Central Java is Pemalang, having the capital with the same name. Pemalang is bounded with Java Ocean in north, Pekalongan regency in east, Purbalingga in south and Tegal regency in west.
Like the larger cities of Tegal, to its west, and Pekalongan, to the east, Pemalang was dominated in the nineteenth century by sugar production. The area was known for its fertile soil, which had made it to be rich rice-growing region. By the end of the nineteenth century the coastal plain, the most fertile part of the regency, it was almost completely used for sugar cultivation, divided among five major plantations. Under the Japanese occupation during World War II, Pemalang's fertility provided needed rice for the Japanese war effort. The occupiers set high quotas for production, causing food shortages because little was left to remain in the village after meeting the quota.
On pre historic time, Pemalang existence can be proven based on archaeological finds in prehistoric times. The founding are in the form of terraces and baths punden in southwest in Moga district. In addition, the archaeological evidence indicates the existence of the elements of Islamic culture that shown in the tomb of Sheikh Maulana Maghribi in Kawedanan Comal. Then the grave Rohidin, Sayyid Ngali, the uncle of Sunan Ampel who also had a mission to convert the local population into Islam.
The resident population as rural settlements had regularly appeared in the early centuries in the period of centuries XIV and XV, and then growing rapidly in the sixteenth century, which was in the increased development of Islam in Java under the Kingdom of Demak, Cirebon and later Mataram.
Pemalang became an administrative territorial entity that firm and steady since R. Mangoneng, Pangonen or Mangunoneng became the ruler in Pemalang region centered around the Hamlet of Oneng, Village Bojongbata in about the year 1622. Mangunoneng was a the one who were very anti of VOC. Thus, Mangoneng could be viewed as a leader, warrior and heroe of the nation in the fight against Dutch colonialism in the seventeenth century.
The northern part of Pemalang District represents of the lowlands, while in the southern part is in the form of mountains, the peak is Mount Slamet, the highest mountain in Central Java. Comal River is the biggest river, which is flow into the Java Ocean (Ujung Pemalang).
Pemalang has numbers of destination relating the natures sightseeing like, Sibedil waterfall, Cipendok waterfall, Bengkawah waterfall, Gunung Gajah or elephant mountain, gunung wangi cave, Joko Tingkir beach, Blendung beach, Lawang waterfall, Barong waterfall. There is also Widuri beach, Moga swimming pool and resort, Cepaka Wulung, Silating lake, Mendelem hill and Rengganis hill.