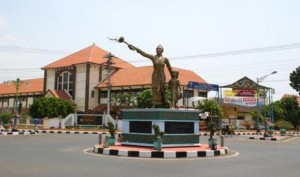 Jepara
Jepara is one or regencies in Central Java. It has been known for the best furniture manufacturer that mostly produce the best qualify furniture to be exported abroad. The town is renowned its furniture industry. The production of teak furniture, employs approximately 80,000 people in the town, working in a large number of mainly small workshops.
Jepara is bounded with Java ocean in west and north, Pati regency and Kudus in east, and Demak regency in south. The area of Jepara include Karimunjawa islands which lies in Java ocean.
Jepara is located on the east coast of Central Java, where the west and north bounded by the sea, while, the eastern part of this district is a mountainous area. Originally Jepara name comes from the words of Ujung Para, Ujung Mara and Jumpara which became Jepara, and the meaning is a settlement where the traders who trade to the various regions.
In the 16th century, Jepara was an important port; in early 1513, The king, Yunnus was led an attack against Portuguese Malacca. His force is said to have been made up of one hundred ships and 5000 men from Jepara and Palembang but it was defeated. Between 1518 and 1521 he apparently ruled over Demak. The rule of Ratu Kalinyamat in the latter 16th century was, however, Jepara's most influential. Jepara again attacked Malacca in 1551 this time with Johor but was defeated, and in 1574 besieged Malacca for three months.
The populationin Jepara is almost entirely Javanese and over 95% are Muslim. In the 16th century, it was an independent kingdom, and was twice burned by the Dutch. As a coastal area many traders from around the world landed in Jepara centuries ago. As a result, some of Jepara's resident have at part European, Chinese, Arabs, Malay or Bugis ancestry.
Jepara is also famous by the existence of RA. Kartini, who was the national hero for feminism rights and became the pioneer for Indonesian women to have the same rights in education, thoughts and free will.
Beside the furniture manufacture industrial, Jepara is special for it has some tourism destinations that worth to be visited, like, Kartini Musem, Mentingan mosque and grave, Bandengan beach, Songgolangit waterfall, Portuguese fortress, Kartini beach, Welahan temple, Karimunjawa island, Tirta samudra beach, and many more.