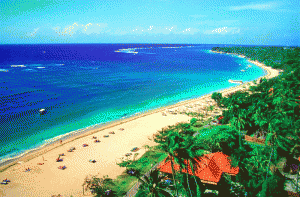 Nusa Dua
Nusa Dua is known as an enclave of large international 5-star resorts in south-eastern Bali. It is located 40 kilometres from Denpasar, the provincial capital of Bali, and administered under Kuta South District. Nusa Dua means two islands.
There are two famous destinations in Nusa Dua, which is Tanjung Benua and Geger Beach. Geger Beach is located in Sawangan, about 3 kilometers from the southern area of Nusa Dua. The sea here is calm so farmers grow seaweed here and tourists swim here. Immediately north of Nusa Dua enclave is the peninsula of Tanjung Benoa that includes less exclusive hotels and Benoa village. A multi-denominational area, it includes a mosque, and Chinese and Hindu temples in close proximity.
Nusa Dua offers the ultimate luxury in Bali. If you are after a place to stay in style then Nusa Dua is as good as it gets! If the purpose of your stay on Bali is just laying and on the beach, recieving a first class service and not have the hassle of bargaining with the local traders, Nusa Dua may be the place for you.