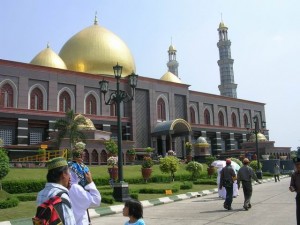 Depok
Depok, is a city in West Java province. The city is located just in the south of Jakarta, between Jakarta-Bogor. The word Depok icame from the word in Sundanese means hermitage or place of penance. However, there was also saying that Depok was an acronym of De Eerste Protestants Onderdaan Kerk which means People's First Christian Church.
Depok was a remote hamlet in the middle of wilderness, which was later on May 18, 1696 a VOC official high – Cornelis Cahstelein bought Depok land that includes of some areas in South Jakarta and Ratujaya Bojong Gede. Subsequently in 1871 the Dutch government Depok to form its own government and president.
Chastelein's autonomous region was known as Het Gemeente Bestuur van Het Land Particuliere Depok. At the time of independence, Depok became a district that is within the context of Kewedanaan (Vice Regent) Parung area of Bogor Regency.
During the period of 17 years the City of Depok growing rapidly both in Governance, Development and Society. Especially the field of administration of all Village turned into Kelurahan and the Kelurahan division, it is turn Depok nowaday consists of 3 Sub- districts and 23 Kelurahan.
Depok, beside to be the autonomous city that directly adjacent to the Special Capital City Region of Jakarta, this is also the buffer zones that are directed to be the residential city, education city, trade and service centers, tourism city, and as a city of water absorption.
Depok is famous by the city of star fruit, moreover, it is also known to have a number of potential natural resources that can be developed, one of which is the situ or the embankment. Currently, through the Department of Youth and Sports Tourism (Dispora) there are five embankments that will be continue to developed into recreational facilities for the residents of Depok.