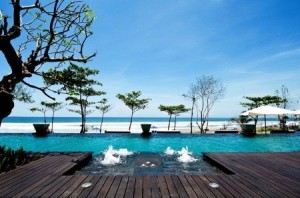 Seminyak
Seminyak is one of tourism areas in Bali. Beside the tourism destination, Seminyak is also famous for its residentials are on the west coast of Bali, in the north of Kuta and Legian. This suburb is kind of the place of high societies and very popular by the resident of expatriates, which have costly living and accommodation among other area in Bali. The atmosphere is much more sophisticated and laid-back than Kuta, and the beach in particular is quieter during the day.
There are plenty of luxury spas and hotels abound. Some of those resorts are having a high density of high end shopping, combined with the clustering of many fine eating establishments, it has rapidly become one of the most well known tourist areas on the island.
In Seminyak Beach there is Petitenget Beach, which is a continuous expanse of grey sand stretching in both directions as far as the eye can see. To the south it becomes Legian Beach and then Kuta Beach, but it is noticeably quieter than both. The sunset here is famous and nice. Other well known areas popular with tourists include Ubud, Sanur, Nusa Dua, Jimbaran and the Bukit Peninsula.
In addition to a few commercial strips with popular and lively restaurants, bars, villas and good crafts/furniture shops, there are a few notable establishments: Ku Dé Ta, which is a bar/restaurant with a cult following based on its beach side/semi-resort atmosphere that has earned it the title of number one party spot in various magazines, and Oberoi, which is an expensive hotel with a worldwide reputation. La Lucciola is a restaurant located in the north of Seminyak on the beach and has been in existence for over a decade. Jalan Raya Seminyak (more often referred to as Jalan Legian), runs parallel with the beach, bisecting the district and acts as its main road artery.
Over all, Seminyak area is the well-known street, a nice and lively crowds are here.