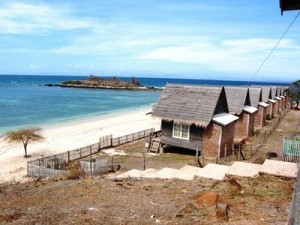 Bima
Bima, is a city and regency in West Nusa Tenggara, the capital city is Woha. Bima was build in 5 Juli 1640 century based on Islam Syariah and was led by Sultan Abdul Kahir as Sultan of Bima I. Since that time Bima was divided in some kingdoms and leaders.
Bima is bounded with Flores ocean in North, Indonesia Ocean in South, Dompu regency in West and Sape strait in East. The topographical area of ??Bima regency majority (70%) is textured mountain plateau while the remainder (30%) is plain.
Based on the potential of existing resources, the variety of investment opportunities is prospectively to be developed in Bima, among others in the field: services, including transportation, electricity and telecommunications, trade, agribusiness / agro-industry, bottled water industry, small industry and handicrafts, tourism and education.
Historically, the city is the center of the Sultanate of Bima. With a heritage of cultural property that is owned, Bima City can develop the cultural tourism with Islamic culture as its base. Asi Mbojo (imperial palace), tombs of kings and saints, games and folk art and religious ceremonies such as the celebration of Maulud, U'a Pua and the procession of the king's inauguration and other objects and events is very interesting. Nature tourism and marine could also be developed. Coastal area of Beach City Lawata until the gate can be developed as a center of the hospitality and souvenir trade. Park City can also be created as an alternative for domestic tourists.
Tourism potential to be developed in this region are:
– Nature tourism, including Lawata Beach, Amahami Beach, Oi Ni'u Beach, ule Beach, Kolo Beach and Goat Island
– Cultural tourism, including museums Asi Mbojo, Tolobali grave, hill Danatraha (tomb complex of the Sultanate of Bima) and Fort Asakota.