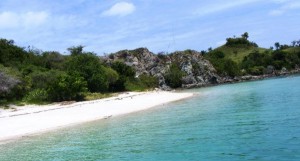 Bidadari Island
Bidadari Island is one of resort in Thousand Islands regency or Kepualuan Seribu, Jakarta. Before it known as Bidadari Island, it has two names, which was, Sakit island and Purmerend island. Bidadari in Bahasa Indonesia means Angel or fairy.
In the 17th century, this island was an island of Onrust supporting activities because it is situated not far from it. Since becoming supporter, it was built on the island some supporting facilities. For instance, in 1679, the VOC was build a hospital for leprosy which is the transfer from Angke. Therefore, this island had called Sick Island or Pulau Sakit.
At the same time, the Dutch founded forts supervisors. This fort was built to conduct oversight of defense from enemy attacks. Before the island was occupied by Dutch, the Ambon and Dutch people have lived on this island.
Around the year 1800, the British fleet attacked the island and destroyed the buildings on the island. Around the year 1803 the Dutch was return and occupied this island and rebuild the building again. However, the British again attacked in 1806, Onrust Island and Bidadari Island and other islands was falling apart. Year 1827 the island was re-built by the Dutch people involving workers Tionghoa and prisoners. The building was a dormitory built for pilgrims who serves until 1933.
This island, before becoming a resort it was vacant and uninhabited until the year of 1970. Even more it never been visited. In the early 1970s, PT Seabreez manage this island to be used as a tourist resort.
Since the year 1970 this, to attract visitors, the island was renamed Bidadari Island. The reasons for taking its name to Bidadari Angel Island was inspired from the name of the other islands in Pulau Seribu like Pulau Putri or Princess Island and Pulau Nirwana or Nirwana Island.
For several years of conduction Pulau Bidadari Resort has become one of the marine tourism destinations in Kepulauan Seribu which the people are very interested to visit and as a national tourism asset, especially for those who are living in around Jakarta and West Java.
The closest location with Marina Ancol beach with the distance less than 15 km. it take 20 minutes by speed boat, arriving at safety, silent and lonely place which is ideal for forgetting the crowded of tha capital city Jakarta or other city around.
The natural environment which keeps the ecosystem. combination between natural forest and sea, offers a special marine natural atmosphere. Any kind of recreation activities have been provided for a whole day.
Bidadari Island is the Angel itself
www.Indonesia-Tourism.com