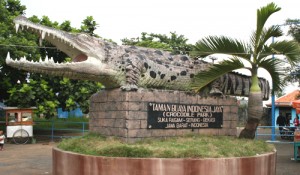 Bekasi
Bekasi city is one of suburbs in West Java provinve. Located on the eastern border of Jakarta in the Jabodetabek metropolitan region. To the south is Bogor Regency, east is Bekasi Regency. Bekasi City is home to the urban and now developed into an industrial area.
The city formerly was a district of Bekasi which then developed and enhanced its status in 1982 became administrative town of Bekasi which was currently consists of four sub-districts namely East Bekasi, South Bekasi, West Bekasi, and North Bekasi, and covered 18 Kelurahan and 8 villages.
In 1996 the administrative town of Bekasi again upgraded to municipality now the "city". Looking from the contribution of the local revenues, the presence of industrial areas in this city is become factor of the economic growth, by placing the processing industry, followed by trade, hotels, and restaurants.
Although in minor scope, agricultural land also contribute to the budget the City of Bekasi. The farmers mainly scattered in the northern city of Bekasi, which are relatively left behind by the area around the center of town. Moreover, Bekasi nowadays is sets to be a township for middle-up society, it proves by there are numbers of luxury residential with township facilities.
Even it considered as a millennium city, Bekasi has some potential objects out of the mall or plaza or any modern place to go to. For instance, crocodile park, which is a recreational park and the place for the crocodile cultivation. Another historical tourism is Saung Ranggon which was build in 16 C by Prince Rangga, the heir of Jayakarta prince. There is also, Karang Kitri camping ground, Jababeka golf court, Cikarang waterboom, Delta Mas city and Gedung Juang 45 or 45 Historical Building.