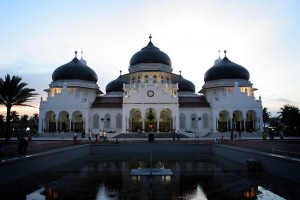 Banda Aceh
Banda Aceh is the provincial capital and largest city in the province of Nangroe Aceh Darussalam, the island of Sumatra, with the elevation of 21 meters. The city was originally named Kutaraja, and determined as the provincial capital in 1956. Kuta Raja means "City of the King", in reference to the founding of the Aceh Sultanate from Champa origins. Later its name was changed to Bandar Aceh Darussalam or popularly known as Banda Aceh, with the first part of the name coming from the Persian bandar meaning "port" or "haven". It is also referred to as the "port to Mecca", as Islam first arrived in Aceh before spreading throughout Southeast Asia.
There are some historical destinations in Banda Aceh that worth to be visited. Those historical sites are remain the historical in past times. For instance: The House Of Cut Nyak Dien. Cut Nyak Dien was an Indonesian's woman revolutionist from Aceh. The house is a replica of the heroine Cut Nyak Dhien House, from the Aceh War.
The Great Mosque of Baiturrahman. Baiturrahman is a great mosque located at the heart of Banda Aceh, The mosque with a very fascinating architecture. This mosque is incredibly standing over times. This magnificent mosque had prove its existence when the Tsunami came in 2004, and the mosque were remain exist elegantly on the ground.
Other destinations in Banda Aceh are: Gunongan and Taman Putroe Phang, Graveyard in Bitay Village, The Museum Aceh, Indonesian Airline Monument, Ulee Lheue-Banda Aceh. Moreover, after the Tsunami tragedy in 2004, there are still some ruin that finally become the destination tour regarding the tragedy on 2004. The Tsunami Tour shown Fisherman boat on an inhabitant house, Floating Electric Generator Ship and Tsunami Monument & Garden