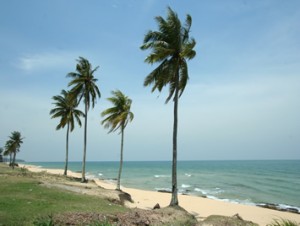 Abang Island
Abang Island is a small island that located in southern part of Batam city, Riau archipelago. This island is sized for about 2000 x 5000 m, and it has distance 50 Km from Muka Kuning, Batam island. To reach Abang island, we can use boat or it known as Bot Pompong, from 6 Balerang bridge (12 km).
Abang island is one of tourism destinations that being developed by Batam city government. In addition to its beautiful beaches with coral reefs and many kinds of colorful fish, Abang island is also considered equivalent to Bunaken beach, Manado, in the western part of Indonesia. Furthermore, the territorial sea around the Abang island and Petung island is visited by many fishing enthusiasts. There are numbers of fish species that obtained include trevally fish, lencing, red sand, red snapper, nut, fish, pufferfish, and others.
On this island there are three hamlets for the local inhabitants, which is Pulau Abang village, Air Saga and Pulau Petong village, the center of the of the village is located in Pulau Abang Kecil. Pulau Abang waters has nine points which is ideal to be a diving place with a depth of 15-18 meter dive. To be able to enjoy the underwater beauty of the area, the visitors need to know the weather conditions due to weather changes in the area are frequent.
The best weather conditions for diving at Pulau Abang is around March to August, when the east wind season, and September to November, when the west wind season. At that time, the weather will be so fine and the condition under the sea is not too tight and it will be very convenient for diving.
www.indonesia-tourism.com