TAHURA TRAIL RUNNING RACE
---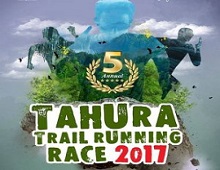 Tahura Trail Running Race is the run competition cross-country where the location or terrain hosting the competition is the natural contours of the uneven road and has a challenging natural obstacles.
Tracks that will be passed is a common asphalt roads, rocky road, dirt or mud road, villages and paving blocks with mileage race is the Short + -10Km, Half Marathon Trail, Marathon trail, + -6km Family category and Night Trail Run.
Beside to the uneven contours of the road both uphill and downhill, the competition was held outdoors with weather changes that must be anticipated by any participant as cold, rain and heat.
Unlike the competition run highways that are commonly held, Tahura Trail Running requires participants to have a high spirit and stamina in order to pass each of the challenges inherent in the competition field.
at Taman Hutan Raya Ir.H.Djuanda, Bandung - West Java
When 2017-01-21 until 2017-01-22
Contact
Trail Running Race
+62 21-7388 2385
info@indonesianbiking.com
http://www.trailrun-tahura.com/informasi