LEGENDA BATIK NUSANTARA 2017
---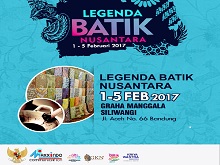 Indonesia is a country with rich in cultural diversity. One of the cultural is traditional Indonesian fabric. Fabric archipelago is one of the finest works of art owned by the Indonesian priceless.
Batik in Java, Ulos in North Sumatra, Songket in South Sumatra, Sasirangan in South Kalimantan, Weaving in East Nusa Tenggara, embroidered fabrics in West Java, East Java and West Sumatra also craftsmen of the silk in South Sulawesi, those are cultural heritage of the ancestors of Indonesia, even more distinctive cultural heritage archipelago that has been exposed and is still hidden.
To preserve and as an appreciation of love and proud of the priceless heritage, so we are Maxxindo Communication held an exhibition entitled LEGENDA BATIK NUSANTARA. So that the legacy of the ancestral culture can continue to be sustainable, so will not be timeless of generations.
LEGENDA BATIK NUSANTARA is an exhibition of batik, embroidery, weaving, fabric and Indonesia craft, it becomes the 14th event that featuring the wealth of fabric archipelago, where the event always get a very good appreciation of visitors and also from exhibitors.
at GRAHA MANGGALA SILIWANGI Jl. Aceh No. 66 Bandung
When 2017-02-01 until 2017-02-05
Contact
Silvi Oktavia
(+6222) 84281387 / +62878 2495 8638
maxxiindonesia@gmail.com
http://www.indonesia-tourism.com/events/