JAVAPRIME MALANG 10K
---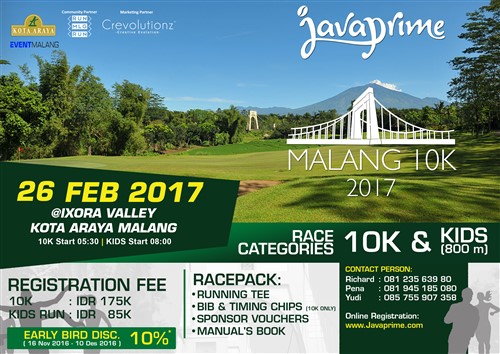 JavaPrime 10K Run 2017 is a race that is initiated by JavaPrime. The race route itself will be crossing the area of Araya Town which has beautiful natural scenery and fresh. Of course, JavaPrime 10K Run 2017 is expected to be the forerunner of the prestigious race event in Indonesia, particularly in Malang City.
Beside to the category of 10K Run, the event also presents a special race for children is JavaPrime Kids Run 2017. For this category, the distance is contested is 800 meters.
JavaPrime Kids Run invite you to introduce and adopt a healthy lifestyle as early as possible to your children. That starts with a run.
JavaPrime provide a wide range of innovative products that are healthy and taste delicious to help you can still enjoy a variety of delicious food and drink without worrying about your weight increases, could even help burn fat in your body.
at Ixora Vallery, Kota Araya, Malang
When 2017-02-26 until 2017-02-26
Contact
Richard
+62-81 235 639 80
info@indonesia-tourism.com
http://www.javaprime.com