Diaspora Banyuwangi
---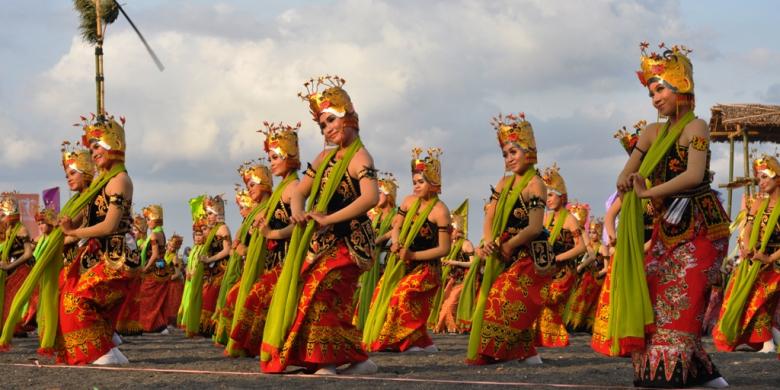 Now Banyuwangi has a new tradition every Aid Al-Fitr namely Diaspora Banyuwangi. It is to facilitate the meeting of nomads from Banyuwangi in the Banyuwangi Hall. This tradition always successfully invited hundreds of diaspora to attend. Some immigrants who come from Kalimantan, Jakarta, Bandung, Batam, Bali to Taiwan. The immigrants gathering while enjoying the local cuisine such as Rujak Soto, Ayam Kesrut, Pecel Pitik, and Sego Cawuk. Not only treated the traditional cuisine from Banyuwangi, the nomads are also invited to sing along with the old songs Banyuwangi, Tanah Kelahiran.
Diaspora Forum is part of an effort to consolidate power and potential of Banyuwangi citizens who live outside the city. Various professional backgrounds of Banyuwangi optimized to help the development of region known as "The Sunrise of Java".
"Diaspora Banyuwangi be the reunion event took off at once seeks input for regional development. Wherever the residents of Banyuwangi exist, in different cities or abroad, they are still able to think and contribute to Banyuwangi".
Diaspora Banyuwangi as the bridge to promote products and tourist potential of region. The Banyuwangi citizens in different regions can still contribute to development area. For example, a businessman, can build a network marketing entrepreneurs in Banyuwang. "They are also expected to be ambassador to promote SME products and Banyuwangi tourism destinations.
at Banyuwangi
When 2017-06-21 until 2017-06-21
Contact
Indonesia Tourism Information Center
+62 31 8702211
info@indonesia-tourism.com
http://www.indonesia-tourism.com/events/