CAP GO MEH FESTIVAL
---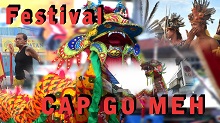 While you may not immediately think of Indonesia when it comes to Chinese New Year celebrations, the 15th day of the Lunar New Year – usually in mid-February – is heartily celebrated in areas of Indonesia with large ethnic Chinese populations (where it is known as "Cap Go Meh").
The series of Cap Go Meh in Singkawang, West Kalimantan consist of events start from the opening ceremony on the Chinese New Year, where the Mayor of Singkawang opening art and culture expo for 16 days at Kridasana Field. So, for 16 days, every night there is the cultural centers performance in Singkawang City, featuring a variety of art and culture that exist in Indonesia in the framework of friendship, brotherhood and harmony in Singkawang.
The second show is a Lantern Parade held on the 13th night of the Lunar New Year is calculated. The Lantern Parade can be followed by all elements of Singkawang society regardless of their ethnicity and faith.
Finally, at the peak of Cap Go Meh in Singkawang marked with the magic attraction of Dayak-Chinese citizens in Tatung Parade that will showcase their immune science while stretcher and paraded around the city and become the most awaited annual spectacle! Tatung itself in the Hakka language (the Kek) is a person who was possessed by spirits, gods or ancestors.
at Kridasana field, Singkawang City, West Kalimantan
When 2017-02-10 until 2017-02-12
Contact
David
(+62 31) 8702211
info@indonesia-tourism.com
http://www.indonesia-tourism.com/events/