BOSOWA HALF MARATHON 2017
---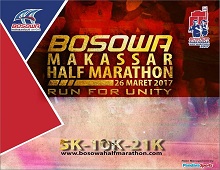 Commemorate the 44th year Bosowa City, Bosowa management held a number of activities in order to enliven this annual event. Aksa Mahmud-owned company will hold three major events for employees and the general public. Namely the half marathon race, weekend sports and arts as well as the prostration of gratitude.
According to the chairman committee Bosowa Anniversary, Rachmat Kaimuddin, it still relies race event to invite the community participated. It is a form of devotion Bosowa for Indonesia and society in general.
For the fifth, this year's event, entitled Bosowa Makassar Half Marathon (BMHM) tagline Run For Unity.
Run For Unity theme is taken to eliminate racial issues is rampant in Indonesia. But with running, all kinds of race, ethnicity and religion into one in the arena. Total prizes up for grabs worth hundreds of millions of rupiah.
Venue: Menara Basowo, Jalan Jend. Sudirman - Makassar
Time: 06:00 - 13:00
at Menara Bosowa, Jl. Jend. Sudirman Makassar, Indonesia
When 2017-03-26 until 2017-03-26
Contact
David
+62 31 8702211
info@indonesia-tourism.com
http://bosowahalfmarathon.com/