Bogor Sundown Marathon
---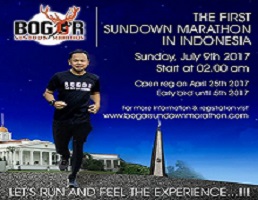 Bogor is a city of local and foreign tourist destinations, especially for sporting tourism.
Bogor is located approximately 54 kilometers south of Indonesia's capital city Jakarta and is part of the West Java Province. The city covers an area of 21,56 km2 with a population number of 984.060 (in dec 2015). Bogor is sometimes called "the city of rain" (kota hujan) due to its high rainfall. Bogor consists of 6 districts (called kecamatan) which can be further divided into 68 subdistricts (called kelurahan) .
The city's inaguration day is celebrated every 3rd of June, because it corresponds to thecoronation of Prabu Siliwangi as the king of the Pajajaran Dynasti. Bogor has long been a known as one of the centers of education and agricultural research and is home to various national research institutions. The Bogor Agricultural Institute has been founded since the beginning of the 20th century and has contributed both in the national and international level.
at Jl. Jend Sudirman (In front of Istana Bogor)
When 2017-07-09 until 2017-07-09
Contact
Edho
+62 85289 000249
admin@bogorsundownmarathon.com
https://www.bogorsundownmarathon.com/