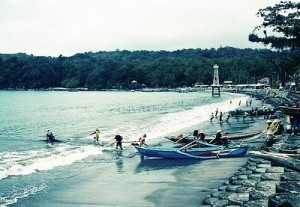 Tasikmalaya
Tasikmalaya is a town and one of district in West Java province. Tasikmalaya is the largest town in East Priangan. East Priangan is consist of Tasikmalaya city, Tasikmalaya district, Ciamis district, Banjar city, Garut district and Sumedang district.
Tasikmalaya is settled on the main south route of Java Island in West Java province. This city also has better development than other large cities that tend to be stagnate thwithout any meaningful or significant development. Therefore,the investors for both local and foreign investors who will invest their business needs to reconsider this city as one of the huge potential and strategic city to develop business.
At present days, Tasikmalaya is held lots of various national and international festival like Tasik Festival (TAFFEST), Tasik Open 2010 in the field of national sports, the Festival of Culinary Tasikmalaya, Tasikmalaya Craft and Culture Festival, and other festivals that routine held each year in this city.
Moreover, Tasikmalaya has lots of potential destinations that worth to be visited, such as tourism sites, crafts site, shopping site, religious tourism, art, culture, and many more.
Tasikmalaya town deserves to be called as "The next second after the big city of Bandung", because of it is the nearest town to the capital of West Java, which is Bandung and this city is already growing rapidly to be the most important key areas in West Java.
The famous destination that rapidly being visited by the people is Naga Village, Galunggung mountain, Pamijahan pilgrimage site, Pantai Selatan or South Beach, Sindangkerta beach, Karang Tawulan beach, and some industrial areas that worth to be visited.
The economy of Tasikmalaya is generally relies on agriculture, livestock, and fisheries, while also relying on the mining sector such as sand Galunggung which has good enough quality for building materials, industrial, and trade.
Tasikmalaya, especially in the era before the 1980s, was known as the basis of people's medium-small enterprises such as handicrafts from bamboo, batik, and paper umbrellas.