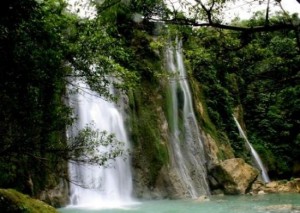 Sukabumi
Sukabumi is a city and one of regencies in West Java. Sukabumi is one of the largest area in West Java, with the capital city of Pelabuhan Ratu and it has 47 sub districts.
Sukabumi was derive from Sundanese language meand Suka Bumen. According to the history, those who were visited Sukabumi was enjoy with the atmosphere. Suka is like and Bumen is living, it refers to the people who like to stay in Sukabumi.
In Dutch colonial times, Sukabumi was the site of the colonial police academy. In 1914, the Dutch East Indies government made the town of Sukabumi as Burgerlijk bestuur with the status there were lots of Dutch people settled and the European, which was the owners of the plantations, and located in south Sukabumi Regency, and they should get special handling and service.
After the enactment, Sukabumi At those times was built the Railway Station, the Great Mosque, Christian Church, Pantecostal, Catholic, Bethel; HKBP; Pasundan, power plants Ubrug; centrale (sub station) Cipoho, Gubermen Police School which was near to the traditional Islamic educational institutions Gunung Puyuh.
Sukabumi is located approximately 120 km from Jakarta, or about two and a half hour journey by car. This place is very easily accessible from Jakarta, Bogor and Bandung. Sukabumi has a diverse tourist attractions, start from marine tourism, up to the mountain.
In Marine tourism Sukabumi has Pelabuhan Ratu beach, Citepus beach, Karang Hawu beach, Cibangbang beach, Cimaja beach, Ujung Genteng beach and Minajaya beach.
In nature tourism, there is Cinumpang camping ground, Gunung Gede national park, Pondok Halimun camping ground, Goalpara plantation, Buni ayu cave, Lalay cave, Halimun or Salak mountain.
For recreational spot, they have Cimalati recreational park, Cangkuang tourism object, Garden Swan and ornamental fish farming.
For sport activities here are sports for diving, surfing, offroad, rafting and hunting. Looking from the geographical land, Sukabumi is rich and potentially to be the tourism destination that worth to be explored.
Beside its cultural heritage, Sukabumi has also have numbers of activities as potential tourisms in Art and Culture. The art and cultural activities are divided into activities originating for the ritual ceremony or entertainment. In gratitude to God for the abundant harvest, Sukabumi society who live in the mountains, are generally still carry out the harvest party like thanksgiving ceremony.
For the people who are living on the sea coast, they also have thanksgiving ceremonies party for fishing carried on as an expression of gratitude. In general, most of Sukabumi society are religious and and very concern to their customs and respect to the ancestors.