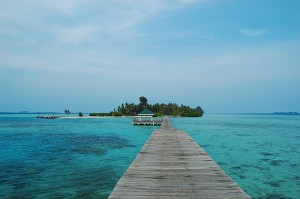 Tidung Island
Tidung island is one of Kelurahan or the smaller sub-district in Thousand archipelago or Kepualuan Seribu. This island is divided into two islands which is Tidung Besar island and Tidung Kecil island.
Between Tuding Besar and Tuding Kecil is connected by the bridge which is located in west side Thousand island, the distance is about 3 hours away from Muara Angke by boat.
Tidung island has only 200 meters wide, with a length of about 5 km, and surrounded by shallow beach overgrown with coral and white shades that look beautifully. Tidung Island is a unique place, especially for marine tourism and diving. The coral reef ecosystems in this island is still virgin and good enough, especially when snorkeling or diving activities in the edge area . The research activities are also often done in this area. This beach does not have big waves because the cluster of corals and coral reefs around the beach are able to withstand the waves, it is safe enough for swimming.
Tidung island was inhabited by the local groups since the Dutch colonial era. It was mentioned that when Fatahillah invaded Malacca, he and his troops use of existing islands in the Bay of Jakarta as a place to set the strategy. One of the island was named Tidung Island, meaning the shelter island.
This island is inhabited by more than three thousands head of the family. Most of the inhabitants are fishermen.
The New Paradise is here on this island
www.indonesia-tourism.com