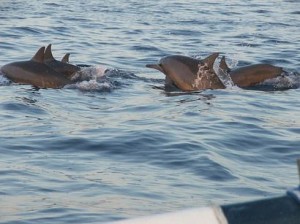 Lovina
Lovina is a relatively new name coined in the 1950s by a local Buleleng Regency official with a good eye for future tourism-based development. It essentially consists of seven traditional villages, which all slightly merge into one on a ten kilometre stretch of the main road which hugs the north coast to the west of Singaraja: Temukus, Kalibukbuk, Anturan, Pemaron, Tukad Mungga, Banyualit and Kaliasem. Kalibukuk is the main hub of this area and is often thought of "Lovina town centre".
The whole stretch of coast here is fringed by quite narrow black sand beaches, which are accessed by a multitude of small lanes which run perpendicular to the east-west coast road. The beaches are generally safe for swimming, and the waters of Bali's north coast, in direct contrast to the crashing surf of the south, are relatively calm.
Diving, snorkelling and dolphin watching are the main activities, but perhaps above all else, this is an area in which to relax and take in a very slow, traditional pace of life. It can get a little crowded in July and August, but outside that peak season, this is a quiet part of the island.
Lovina also has a large number of cafés. Some of these establishments are not selling tea and sandwiches. They often provide loud music and an expensive and often boring assortment of alcohol. Many of the girls working there keeping the patrons company during the evening may be of questionable or negotiable virtue having little issue in following the patrons home after closing time.
Lovina Beach (or often simply Lovina) is a coastal area on the northwestern side of Bali. The coastal strip stretches from 5 km west of the city of Singaraja to 15 km west.