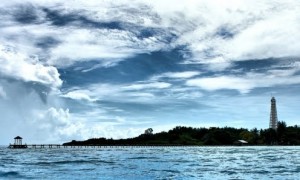 Indramayu
Is a regency and a town in West Java. The Capital city is Indramayu but the governmental center is located in Jatibarang. Indramayu is located in the North coastal area of West Java, and East from Jakarta and North East from the city of Bandung and North West of the city of Cirebon. The town of Indramayu is situated below sea level, which means that it is risky if there is high tide in stormy conditions. The town is only protected by some dunes and barrages at the seaside. While, the climate is quite dry. Indramayu is part of Pantura or coast path which is one of the busiest line in Java island, especially on great holiday.
Although, Indramayu is part of Pasundan or part of Sundanese culture, the local inhabitants are mostly speaking in Java language with Cirebon dialect. It is called Dermayon language.
The name of Indramayu was coming from the name Nyi Endang Darma Ayu, which was the founder of Indramayu at ancient time.
The economic issue within Indramayu people is about rice farming, even though, it is not the center of rice field. The big commodity in plantation is coming from the famous Indramayu mango. Indramayu is rich in oil and gas resources, one big oil refinery in Indramayu is Balongan Oil Refinery located in Balongan District.
Everything in Indramayu is famous, the girls, the culinary, the art and culture and the people themselves. Moreover, the tourism in Indramayu is significantly increase to the better places that worth to be visited like Tirtamaya beach, Eretan beach, Bojongsari dam, Bolang dam, Monkey colony, and and the most interesting is Biawak island.
Others interesting places to go are the town square, Kijang monument, Manggo monument, Indramayu great mosque, the Balongan oil refinery, and many many more.