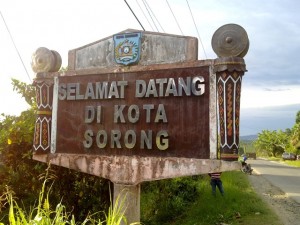 Sorong
Sorong is a city and regency in West Papua. The name Sorong comes from the word Soren. Soren in the Biak Numfor language, means the deep and bumpy sea. Soren word was first used by tribes Biak Numfor who sailed in the past by sailboats from one island to another until once again return and settled in the Raja Ampat Islands.
These people of Numfor Biak who gave the name "Land Maladum" as Soren which was then pronounced by the Thionghoa merchants, European missionary, Maluku people and Sanger Talaut as Sorong.
Sorong known as oil city since the coming of oil surveyors from the Netherlands in 1908. Sorong town renowned as one of the city by Heritage Attribute of NNederlands Neuw Guinea Maschcapeij (NNGPM) or a city that filled by the historical remnants of the former Dutch-owned oil company.
The NNGPM company began the oil drilling activity in Sorong since Year 1935. HAnd the historic heritage from the company is Export Ports Petroleum, several oil storage tank, household employees, employees of the former barracks. Former technical school (VOC School).
Sorong is very strategic, because it is a doorway of Papua Province and the city stopover. Sorong is also a city of industry, trade and services, because it is surrounded by the regencies that have Natural Resources which potentially open up the opportunities for local and foreign investors to invest their money.
Sorong is a fusion between the values of natural heritage and authenticity. Sorong also called as Water Front View or city with a panoramic ocean which shown the fusion, the landscape of Waigo island, Batanta and Salawati which is one of the Raja Ampat archipelago.
Sorong has unique topography that consists of mountains, slopes, hills and some are plain, the east side surrounded by dense forest which is protected forest and jungle tours. Some of the areas are flowed by rivers like Rufei river, Klabala river, Duyung river, Remu river, Klagison river, Klawiki river, Klasaman river dan Klabtin river.
Sorong has some potentials destination that uniquely different with others like the Cassowary Cape coast with its marvelous white sand, the island of Raam, Soop Island and the Island of Doom which is famous for its beautiful beaches. Dofior island, also the Welcome Monument in Sorong by using the Moi language (native tribes in Sorong) There is also Lido beach, Um island, Dofior wall with panoramic sea views and natural beauty at dawn.
In Sorong, there is cultivation of sea turtles, such as green turtles (Chelonia mydas), hawksbill (Eretnochelis imbrikata), and the turtle cracked (Lepidochelis olivasia). The location can be reached through land and sea.