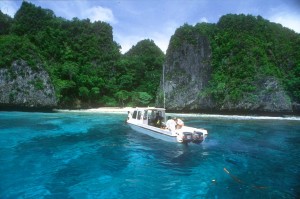 Raja Ampat Regency
Raja Ampat is a regency in West Papua and also become the one of wonderful destinations in Indonesia by the magnificent nature scenery and coral reef. The capital city is located in Waisai.
This regency has 610 islands. Four of them, are Misool, Salawati, Batanta and Waigeo Island that become the major islands. Of the entire island, there is only 35 islands that are inhabited while others are uninhabited and mostly do not have any name yet.
As an archipelago, the only inter-island transport and supporting community activities in Raja Ampat is the ocean freight. For instance if we want to reach Waisai, the district capital. When using the aircraft, it has to transit in Sorong. From Sorong to Waisai is reach by using sea transport. The facilities are available in speed boat with capacity of 10, 15 or 30 people. The cost is approximately Rp. 2 million. Waisai can be reached within 1.5 to 2 hours.
According to Conservation International, marine surveys suggest that the marine life diversity in the Raja Ampat area is the highest recorded on Earth.[2] Diversity is considerably greater than any other area sampled in the Coral Triangle composed of Indonesia, Philippines and Papua New Guinea. The Coral Triangle is the heart of the world's coral reef biodiversity, making Raja Ampat quite possibly the richest coral reef ecosystems in the world.
The area's massive coral colonies along with relatively high sea surface temperatures, also suggest that its reefs may be relatively resistant to threats like coral bleaching and coral disease, which now jeopardize the survival of other coral ecosystems around the world. The Raja Ampat islands are remote and relatively undisturbed by humans.