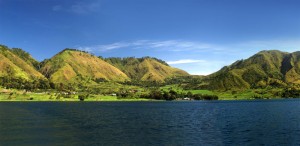 North Sumatra

Medan is the capital of this province. North Sumatra is located on the tip of Indonesia territory, and become the most populous province outside of Java island
North Sumatera has covered by land rises to the mountain range, which is dominated by Lake Toba. Toba is the largest volcanic lake in the world, and become a figure of Mother for the local inhabitant and for flora and fauna around the lake. By the existence of Toba lake, it gives many advantages for people, and many other types of plants and animals live within the boundaries of Lake Toba. The view of Toba lake is also become the first point to go there, the gorgeous of Lake Toba is famously well-known as one of Indonesia destination nowadays.
The local inhabitant of Nort Sumatera is dominated by Batak people who have strong way of living at their culture and tribe. Even though Islam is the religion of the most inhabitant of North Sumatera, but Bataknese is strongly have Christian as their religion. At early begin, Bataknese hold their Animist-Spiritualist as their religion until the first protestant missionaries came by in the 1850s.
North Sumatra's economic and commodities are commonly taken from their agriculture things such as their Sumatra Mandheling and Sumatra Lintong coffee beans which largely been exported to the U.S
The cultural diversities within the North Sumatra province are dominated by the tribes which stay there, such as: Malay, Nias, Batak Toba, Pakpak, Karo, Simalungun, Central Tapanuli, and for the settlers like Minang, Javanese and Aceh which each has their own custome and way of living.
For mode details:
http://www.indonesia-tourism.com/north-sumatra/