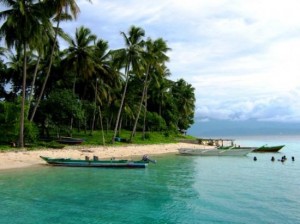 Manokwari
Manokwari is a city and capital city of West Papua province. Manokwari is located on the north coast of the Bird's Head area of Papua Island. This city is one of the historic city for the Christian community in Papua because on February 5, 1855, two evangelist men landed on the Mansinam island and began the work of Protestant Christianity to spread among the tribes who still fight each other.
To respect both the evangelist, a large cross monument was built there. Moreover, Dorey is the bay area diving coral reefs and shipwrecks that are well known in Indonesia and even the world. In the middle of the Gulf Dorey, there are three islands, Mansinam, Lemon and Raimuti.
Native tribes who inhabited Manokwari is thea large tribe of Arfak, the Wamesa tribe, Samuri, Sebyar, Irarutu and Numfor Doreri. In addition, there are tribes like Serui arrivals from Papua, Biak, Waropen and several tribes from outside of Papua.
In Manokwari there are many endemic rare birds such as Papua White Parrots, King parrots or Taun-Taun. All kinds of orchids are also alive at the green trees. The forests in coastal areas still inhabited by many wild animals like-soa soa, snake, possum and a variety of other small birds.