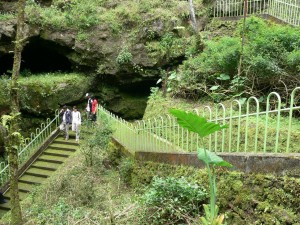 Purbalingga
Purbalingga regency, with the capital of Purbalingga city, is one of regencies in Central Java Province. This regency is bounded with Pemalang regency in north, Banjarnegara regency in east and south, and Banyumas regency in west.
Purbalingga regency is divided into 18 sub-districts and being subdivided into villages and hamlets. The governmental center is located in Purbalingga sub-district.
In Purbalingga there are many industries producing raw materials to be used as an eyelashes or also wig and a bun or a hair piece that additional hair provided. Another specialty is the exhaust industry, which is the transformation of copper pots and pans industrial. The Braling exhaust is quite popular among car owners, as an alternative cheap spare parts.
The most popular destination in Purbalingga in Goa Lawa or Bat Cave, other destination is divided into some categories like historical and pilgrimage tourism, such as: Tempat Lahir monument, which is the monument to commemorated the greatness of General Sudirman, one of Indonesian heroes.Purbalingga great mosque, Ardi lawet contemplation. On artificial tourism, there are: camping ground and Munjuluhur adventure park, Owabong recreational place, Sanggaluri Park, Purbasari Pancuran Mas, Tirto asri swimming pool. On nature tourisms there are: Goa Lawa, Selamet mountaineering. While related on village tourism, there are: Karangbanjar tourism village, Lembah Asri tourism village, Penusupan vilage tourism, on those villages there are guest houses available for the visitors who come to the Purbalingga or to the villages.
Very interesting Purbalingga.