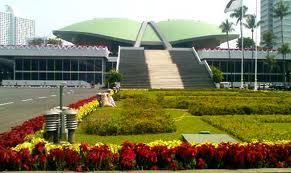 Indonesia Parliament Complex, which is also known as the DPR / MPR; is the place to meet members of the Assembly, the Regional Representative Council, and the House of Representatives.
This Parliament Complex was established in March 8, 1965. At that time, The President Sukarno trigger to hold CONEFO (Conference of the New Emerging Forces) which is the container of all the New Emerging Forces.
This building is consists of a dome-shaped building name Nusantara, Nusantara I or Lokawirasabha as height of 100 meters with 24 floors, Nusantara II, Nusantara III, Nusantara IV and Nusantara V. In the middle of the yard there is a fountain and the "Electronics Element". There is also established the General Secretariat Building and a mosque around the building. On the amendment of Act of 1945 (UUD'45), in complex DPR / MPR has established a new building for the office of the Regional Representatives Council (DPD).
The Parliament complex building is located in Gelora, Tanah Abang subdistrict, Central Jakarta. At west side is bordered by Gelora Street, at south to the Office Complex Ministry of Youth and Sports, Complex Televisi Republik Indonesia (TVRI), and Taman Ria Senayan Complex, on the east by Jalan Gatot Subroto, and the Ministry of Forestry Complex ( Wanabakti Mangala Building) in north.