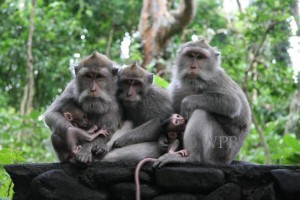 Ubud
Ubud is a village in Bali island, with a height of about 300 meters above sea level, Ubud has a cooler air from the plains region of the original south Bali. Village of Ubud has a population of about 9800 inhabitants. With an unspoiled environment, this area is a popular source of inspiration for artists, including foreign artist.
Ubud is a remarkable town in the middle of the island of Bali. For more than a century, it has been the island's preeminent centre for fine arts, dance and music. While it once was a haven for scruffy backpackers, cosmic seekers, artists and bohemians, Ubud is now a hot spot for literati, glitterati, art collectors and connoisseurs. Famous names walk its busy sidewalks everyday. Elegant five star hotels and sprawling mansions now stand on its outskirts, overlooking the most prized views in Bali. Nonetheless, Ubud is still popular with backpackers, mystics and all the finest fringe elements of global society. Ubud is not "ruined". Its character is too strong to be destroyed. It still draws people who add something; people who are actively involved in art, nature, anthropology, music, dance, architecture, environmentalism, "alternative modalities," and more.
Around the 1920s, two European painters from the Netherlands, Rudolf Bonnet and Walter Spies from Germany, carve a new historical development of painting in Ubud area. Both these European painters introduced the technique of European aesthetics, especially in the areas of lighting, shadows, perspective and anatomy. The local painters to absorb the new techniques in accordance with the basic values and locally with the mind continue to take traditional themes so as to give a separate identity under the name of Ubud Style.
Ubud is arguably the best place to use as a base if you're visiting Bali; if you're looking for culture, comfort, nature and inspiration. Ubud is surrounded by most of the things that bring people to Bali; the scenic rice fields, small villages, art and craft communities, ancient temples, palaces, rivers, cheap accommodation and unique luxury hotels. And it's central location makes it easy to get from Ubud to the mountains, beaches, and major towns.
In ubud, there is also a monkey sanctuary, which is a nature reserve and temple complex in Ubud, Bali. There are more than 340 Crab-eating Macaque in the forest. The Monkey Forest contains the Pura Dalem Agung Padangtegal temple as well as a "Holy Spring" bathing temple and another temple used for cremation ceremonies. The Monkey Forest is owned by the village of Padangtegal and village members serve on the Monkey Forest's governing council. The Padangtegal Wenara Wana Foundation manages the Monkey Forest and serves to maintain its sacred integrity and to promote the sacred site as a destination for visitors.
www.indonesia-tourism.com