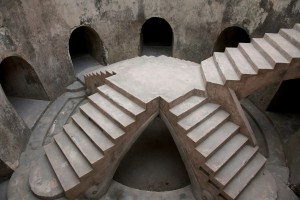 Sumur Gumuling
Sumur Gumuling is a tourism object that becomes part of Tamansari Tourism complex in Yogyakarta, Central Java, Indonesia. Sumur Gumuling or Gumuling Well is a round building that having some chambers inside the building, that was functioned as a mosque at the time of Yogyakarta Palace. The leader of the prayer did not need a speaker since the circular construction, because the echoes that make his voice heard louder.
The word Gemuling is Java language means, rolling in circular. Literally, this building is having a circular design and and there was a Sumur or Well at the center of the building. As a Mosque, Sumur Gumuling has rich in philosophy; It has only one gate before passing some complicated interior design at the inside. This single gate indicating that human being are created from a soil and will back into the same form. At the top of the building, there are 5 stairs that symbolize 5 principals in Islam. The four stairs are connect into other small chamber at the center of the building, while the other stair is connects to second floor above.
At early time, Sumur Gumuling had two gates. Both were the edge of the tunnel that lead to the well. These days the west gate is just a remnant, and the tunnel had fallen, so that it is impossible to go through. While the east gate is still in a good condition and everybody can pass through it.
Today, this historical building becomes one of the popular tourism objects that always been visited in Yogyakarta. Furthermore, this building is also frequently used for photography and movie making.
Once when we exit, as well as in we were came in, we should through a dark alley. It is actually a long hallway, but it is not allowed to be traced. The guard said that it believes that the hallway is lead into the south sea of Parangtritis. For those who are trying to keep on trace will not be save alive.